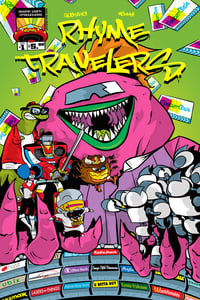 $

5.00
Don't call it a comeback! The Rhyme Travelers return bigger and deffer than ever with their first ever full-length issue!
The crew is broke... again. But when they take on a lucrative gig at an intergalactic shopping center, they learn the true meaning of 'Buyer Beware'
Full-Color, 20 pages
FREE SKETCH AND ACTIVITY BOOKLET INCLUDED WHILE SUPPLIES LAST!