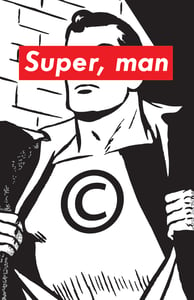 $

10.00
Super, man erases the lines between contemporary art, comics, graphic design, poetry, street art and satire. This series of artworks acts simultaneously as critique and cultural artifact, exploring the creative hegemony of the DC Universe. The reproducibility of the commodified, mass-media superhero idea(l) is contrasted with the aesthetic autonomy of independent comic/art publishing.
Super, man was created by Kenny Keil [creator of independent comics, contributor to Mad Magazine, writer/storyboard artist for Hip Hop music videos and commercials] and Gustavo Alberto Garcia Vaca [writer whose work has been published in literary journals including the Bilingual Review and Rattle, visual artist whose artwork is exhibited in galleries and museums including LACMA in Los Angeles, Parco Museum in Tokyo and the Centre Pompidou in Paris] – together, they appear on panels and exhibit at Comic-Con International, San Diego.
Super, man utilizes the materiality of print to question the idea(l)s of authorship and ownership. These artworks actualize the complex interrelationships of the classical hero and its post-post-meta-modern narrative forms; mark-making and commerce; texts and meanings; and mimetic symbologies and emotional-psychical states. How's your Funkentelechy?